Why should you choose turpin barker armstrong?

You won't pay more tax than you owe
"My company has been with TBA for a number of years now; they have always been professional and efficient in dealing with my tax affairs, both personal and corporate."

Periworld Limited
"There is always somebody available to offer friendly, professional advice at short notice when needed and I am happy and confident that with TBA's assistance my business is in good hands moving forward."

Scanplus
"We want to work with a firm of accountants who know us, understand our business and offer proactive, practical help and advice – we have been working with TBA since 2008 exactly for those reasons."

Gill
"We have been a client of TBA for 10 years, during this time we have always received excellent, professional and knowledgeable advice and support."

The Chequers Group
turpin barker armstrong
"Large enough to meet your accountancy needs. Small enough to know your name when you call"
Expert Accountants: you won't pay more tax than you owe
t
urpin
b
arker
a
rmstrong have been providing accountancy services to a range of clients in the Sutton and surrounding areas of Surrey for over 30 years. As accountants we recognise that business owners need the support of professionals who provide timely, effective solutions to help their business develop. We have all areas of accountancy covered, including audits, Making Tax Digital (MTD), accounts for sole traders, partnerships or Limited Company, and we specialise in Code of practice 9
tax investigations
(COP9). Our accounts team includes qualified accountants, payroll experts and QuickBooks specialists to name but a few.
Our services
Our friendly professional team of accountants have the expertise to deal with a whole range of accounting services and we pride ourselves on our relationship with our clients; providing them a level of support and accountancy service that they deserve.
We offer services in all areas of accounting including in the following:-
Dean Clark
, one of the senior partners, has extensive knowledge in the field of tax investigations and enquiries and is always aware of the sensitive nature of this area. Dean has helped numerous clients with code 9 tax investigations (COP9) and has successfully negotiated settlements with HM Revenue & Customs on their behalf. Please note that any discussions regarding tax investigations is done in the strictest of confidence.

To fill out your Income Tax Questionnaire (ITQ)
Whatever your circumstances, whether you have just set up a business or just are looking to see what we as accountants can offer you, we provide a free consultation. These meetings will be at our cost and therefore there is nothing to lose by allowing us to show you how we will be able to assist you or your business.

To arrange a free no obligation consultation, please do not hesitate to get in touch.

Contact us here or call us on 020 8661 7878
MTD is here are you ready?
Making Tax Digital is here but don't panic if you aren't ready yet.
t
urpin
b
arker
a
rmstrong can get you set up to be compliant for
Making Tax Digital
(MTD) . We have a number of certified QuickBooks pro advisors on hand to support you on your MTD journey.
Follow our handy road map to make sure you are on track or watch our short video to get a better understanding of what you need to do to be MTD ready.
For more information on Making Tax Digital visit our page
here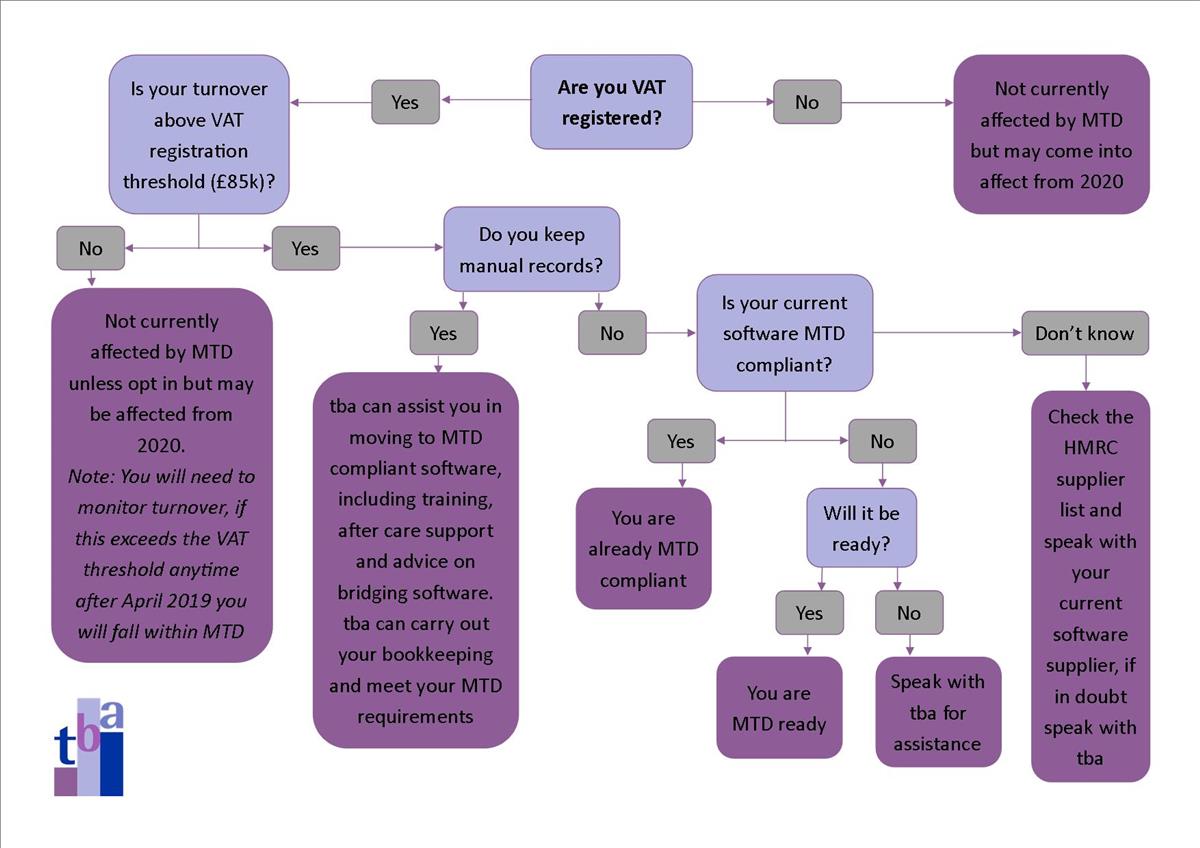 Did you sign up for Making Tax Digital for VAT?
We are fast approaching the deadline for submitting VAT returns through the HMRC portal.May is the last quarter that you can submit a return the 'old' way, then you will need to sign up for Making tax Digital for VAT.For the VAT period commencing 1st of April 2019 submission must be done ...
MTD for VAT - Are you ready?
What is happening?Making tax Digital for VAT. This represents a major change in procedures for many VAT registered businessesWhen?MTD takes effect for VAT periods beginning on or after 1 April 2019 for most VAT registered businessesWho?A business that is voluntarily registered does not need to join ...
Clues as to how MTD will work for Income Tax
Making Tax Digital is coming – as we've written before this will be a fundamental reform of how the government administers the UK tax system.MTD starts in April next year for VAT registered businesses – with the aim that other taxes (income/corporation tax, inheritance etc) get add ...